Printing & Creative Design
JEP Marketing offers full color commercial printing services, specializing in high quality offset printing and digital printing services. From business cards to booklets, mailing services and more, we can handle all of your print demands.
Whether you are shopping for banners, booklets, brochures, business cards, calendars, catalogs, door hangers, envelopes, greeting cards, letterhead, magazines, chamber directories, postcards, posters, presentation folders or table tents, we do it all – including mailing services and web design and hosting. Pricing on our most common items can be found online, but as a full service commercial printing company, we realize that your print needs don't always fit in a box, so we generate custom quotes for all other print projects, including graphic design work and special mailing service requirements.
Discover how full-color printed documents can help you increase sales and profits. Full-color printing attracts attention, increases readership, and presents an image of quality.
---
Business Cards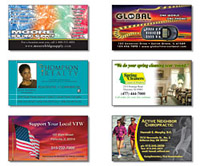 Our standard business cards may be just what you are looking for. JEP Marketing prints business cards for all types of business and professions, in fact, business cards are used by 97% of business people, it's an inexpensive way to have your name in front of your customers or clients.
All Business Cards are printed on 16 POINT C2S Cardstock, 4/0 (Full Color 1 Side) or 4/4 (Full Color Both Sides). Business cards can have a UV glossy finish or a silk smooth finish. They can be square cut or have rounded corners on 4 or 2 sides.
We also have business cards that can be printed digitally on our state of the art digital presses. If you find yourself only needing 100, 250 or 500 business cards and need them fast, we've got just the product for you.
---